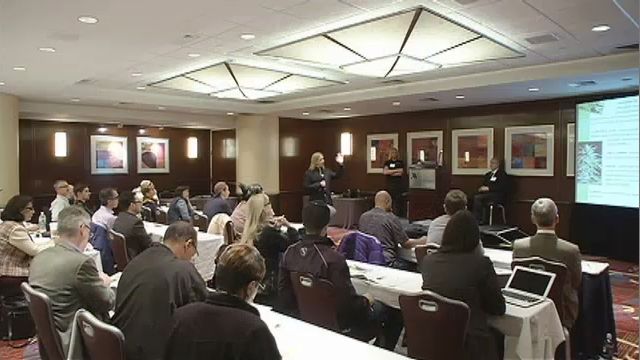 Updated at 11 a.m. on Oct. 14.
By
FUTURE EXPANSION? Alyssa Kenyon works as a trimmer in the Mammoth Inc. cannabis cultivation facility in Warwick. Founder and CEO Spencer Blier hopes eventually to add grow rooms, lab space and employees after retail sales of recreational marijuana start in December.
Celia Kinneary entered Johnson & Wales University's culinary program with a grand vision of opening her own bakery and brewery someday, but now those plans may be taking a slight detour.
The reason: cannabis.
This semester, the senior decided to take a course at JWU that's part of the university's new cannabis entrepreneurship program, and she's been enthralled.
In recent weeks, Kinneary and her classmates have been donning lab coats and special eye protectors against ultraviolet grow lights as they raise cucumbers, tomatoes, lavender and arugula plants in a lab on the Providence campus.
– Advertisement –
The ultimate goal is to transfer the lessons to cultivating high-quality cannabis, which the university doesn't have permission to grow yet.
Kinneary, who is close to earning a degree in sustainable food systems with a minor in craft brewing, is already looking to somehow add cannabis cultivation into her long-term bakery and brewery dreams.
"It's becoming a booming industry and it's important to understand it," she said.
Booming indeed. Soon, nowhere will that be more true than in Rhode Island, where retail sales of recreational marijuana to adults is set to begin on Dec. 1, adding to an existing medical cannabis system in which more than 60 cultivators supply a half dozen dispensaries.
State officials say seven retail outlets will be ready to open come December and another two by April next year. Then, over the course of a year or so, approximately 30 licensed stores are expected to sprout up statewide – creating a new industry that the state estimates may reach up to $110 million in annual recreational retail sales initially.
At this point, it's unclear how legalized recreational sales will affect the state's medical marijuana program, which hit $77.5 million in sales between July 2021 and June 2022.
But it's hoped retail sales will ignite a new job market.
That's where people such as Kinneary come in, learning and honing a set of skills that may soon be in high demand.
About 2,000 people are employed by Rhode Island's cultivators, dispensaries and labs, according to Matthew Santacroce, chief of the Office of Cannabis Regulation at the R.I. Department of Business Regulation.
But so far, there are no clear estimates on how many jobs will be created when the recreational cannabis industry gears up. But the numbers are sure to rise as cannabis-related businesses need to fill positions ranging from "budtenders" and cultivators to marketers and lab workers.
"We're looking at a very, very healthy and exciting situation," Santacroce told an audience of industry members at Providence Business News' Business of Cannabis Summit last month.
CULTIVATION PROCESS: Johnson & Wales University professors Magnus Thorsson, second from left, and Michael Budziszek speak with students Jaevaun Giragosian, left, and Ivan Polanco, right, at a grow lab on the Providence campus. The students are enrolled in the cannabis entrepreneurship program, and are practicing growing techniques on tomato plants. 
PBN PHOTO/RUPERT WHITELEY
BIG POTENTIAL
There's no doubt that marijuana has become big business – and, in turn, a big job creator.
Nationwide, the cannabis industry supports more than 428,000 jobs, according to a 2022 report by the industry website Leafly and Whitney Economics, which specializes in analyzing financial data from the industry.
In fact, with more states moving toward legalization, the sector has posted an annual job growth rate greater than 27% for the last five years, Leafly and Whitney found. In 2021, the report said, someone was hired for a cannabis-supported job about every two minutes of the workday.
And the types of jobs are wide-ranging and go beyond cultivators, extractors and retailers. Needs include security, accounting, marketing, real estate, human resources, legal affairs and information technology.
In neighboring Massachusetts, where sales of recreational cannabis have been legal since 2016, the state says more than 27,200 people are employed by cannabis-related businesses, a job figure that has skyrocketed in recent years as the number of licensed agents has grown from 5,846 in 2019 to 21,190 in 2021. Meanwhile, cannabis sales in Massachusetts in 2021 reached $1.65 billion.
It's no surprise that the demand for more workers hasn't subsided, says Jeffrey P. Hayden, vice president of business and community service at Holyoke Community College in western ­Massachusetts.
To meet the need for entry-level employees in that region, the college launched the Cannabis Education Center in 2020 and consulted with industry leaders to find out what skills were in demand. The center, founded by Hayden, now offers career tracks in cultivation, culinary, extraction and infusion, and customer service.
"For the people who own this business, it is a business like any other," Hayden said. "They're looking for accountants, HR professionals, managers, people who can do harvesting and packaging. When you look at it, it's a great opportunity for people with limited skills, work experience and education to get into the industry from an entry level."
Hayden figures Rhode Island will follow Massachusetts' pattern of job growth in the first years of legalization. Eventually, however, the focus in southern New England will shift and industry leaders may start grappling with market saturation. In some states that pioneered the legalization of cannabis, such as Colorado and California, sales have plateaued and in some cases are declining.
"It's hard to [pull] out a crystal ball and figure it out, but the reality is that right now in Massachusetts it's in a growth mode and they're looking for opportunities to fulfill their market," Hayden said.
QUALITY WORK: Analyst Byron Acevedo processes samples of cannabis from cultivation centers at the PureVita Labs LLC facility in Warwick. Observers expect the sector to need more personnel with a scientific background as the Rhode Island cannabis industry matures. 
PBN PHOTO/MICHAEL SALERNO
FLOWING BACK?
As of now, it's been a bit of a struggle for cultivators in Rhode Island such as Mammoth Inc. in Warwick.
The company supplies its yield of chemical-free cannabis to the state dispensaries, but with only 16,000 Rhode Islanders permitted to buy marijuana for medical reasons – down from 19,400 in July 2021 – and many consumers flocking over the border to cannabis stores in Massachusetts, demand has slumped and deflated prices.
Spencer Blier, Mammoth founder and CEO, is eager for recreational sales to kick off in December, and he's optimistic about the future – more dispensaries, more retail stores, and more cannabis needed. And with it, he hopes, rising prices.
State officials estimate there will be about 115,000 adult-use customers purchasing cannabis products in Rhode Island in the first year or two of recreational sales, with the average customer spending $1,100 annually.
"It will probably take about three months for people to really start flowing back," Blier said. "It will be slow but it will really pick up. It depends on how well Rhode Island advertises that starting Dec. 1 anyone can walk into a store and buy cannabis products."
Once that happens, Blier says, more jobs will follow.
Mammoth only has a few employees now, but Blier foresees adding another five once things pick up. "We're hoping we'll do well enough to put an expansion on the back of the building, build out some additional grow rooms, additional lab space," Blier said.
Massachusetts-based Solar Therapeutics Inc. has even bigger hiring plans.
Solar was awarded a Rhode Island dispensary license by lottery a year ago and is preparing to open a facility in Warwick.
The company already has a 70,000-square-foot flagship facility in Somerset that includes cultivation, product manufacturing, corporate offices and a retail space, hosting about 175 workers spread among several departments. It has another location in Seekonk and is in the process of opening a third in Dartmouth.
In Rhode Island, Solar will be purchasing cannabis from local cultivators for its 2,000-square-foot Warwick dispensary and is expecting to fill about 35 positions in retail, security, logistics and "budtenders" – staff members who offer product suggestions to customers and answer questions.
What qualifications is Solar looking for?
Derek Gould, director of marketing and ­communications at Solar, says the company welcomes newcomers to the industry, as long as they have a strong interest in the field. But more formal training can give candidates an edge, he adds.
"Whether it's from an actual degree or focus from an accredited university or something online, any knowledge or skill set you can bring that's more hyper-focused to the industry isn't a bad thing," Gould said.
CANNABIS CLASSES
As the industry grows, a more-refined set of skills will likely become sought out as the workforce becomes more competitive and specialized, observers say.
"There's definitely going to be a need for better-qualified people because it'll be tougher to get a job because more people are going to be coming into the market," said Robert Calkin, CEO of the Cannabis Career Institute, a California-based organization that stages seminars and workshops nationwide. "So that's another reason why you need to have some kind of experience or a way to beef up your resume or show that you've got some kind of knowledge of the industry."
That might explain the number of educational programs cropping up around the U.S., marketed as a way for those breaking into the industry to stand out.
The Cannabis Career Institute has been around for over 10 years, preceding the legalization of cannabis in many states. Calkin says the program teaches participants how to find a job, how to network with leaders and how to open their own businesses.
With a rapidly changing cannabis industry, many workers constantly have to adjust to a new landscape, Calkin says. This is one of the big challenges that has surfaced with legalization.
"Some people had to figure out how to transition from the black market into the legal, licensed market and then other people had to figure out how to transition from regular jobs into the cannabis industry," said Calkin, who is planning to hold a daylong seminar in Rhode Island in December.
Beyond the institute, cannabis-geared educational programs at esteemed institutions have sprouted up in recent years, from certificates to degree programs.
The Johnson & Wales cannabis entrepreneurship bachelor's degree program was one of the first of its kind.
Launched last year by professors Michael Budziszek and Magnus Thorsson, the four-year program delves into the business side of the industry, as well as the cultivation side.
So far, a full capacity of 70 students have entered the program, some looking to be cultivators, some chemists. Others want to own a business or try marketing.
"We produce a really well-rounded student in this industry that can communicate to individuals within the industry and the profession," Budziszek said. "Good communicators, good critical thinkers, scientists and businesspeople."
In the lab, students haven't been allowed to practice growing and extraction techniques on cannabis – at least not yet. JWU is seeking a license that will allow cannabis hemp to be grown in the lab by next semester.
The students are also learning how to control the plants' genes by modifying the environmental epigenetics, how to practice safe extractions, the history of cannabis and how to market it.
"We are providing students the framework to operate their business, whatever they decide the business is," Thorsson said.
The University of Rhode Island launched a cannabis studies minor this fall after its online certificate program touched off numerous inquiries from URI students already on campus. Courses are designed to help students – no matter their scientific background – learn about the chemical and pharmaceutical sides of the industry.
"We have all the labs, we have the equipment that the industry uses to train the workforce," said Navindra Seeram, professor and head of the Department of Biomedical and Pharmaceutical Sciences in URI's College of Business. "So we can have a robust, viable workforce right here at the University of Rhode Island, training Rhode Islanders in a field that they can then go into and get jobs and be part of the economy."
SPECIAL SKILL SETS
A large chunk of the existing cannabis workforce is made up of professionals who pivoted into the business, transitioning from other sectors once the potential for growth in the industry became evident.
"A lot of people don't realize that something that they do now might be something they can do in the cannabis industry," Calkin said. "They might be an accountant, an insurance agent, a real estate agent. And all they have to do is become a green real estate agent."
Case in point: Dr. Jason Iannuccilli.
A physician at Rhode Island Hospital and a faculty member at Brown University's Warren Alpert Medical School, he started to research the therapeutic effects of cannabis. That led him to found PureVita Labs LLC, a West Warwick lab that conducts regulatory testing on marijuana products.
"I was at the pinnacle of my career; I was director of the interventional oncology division at the Rhode Island Hospital and I saw an opportunity in this space where my medical skill set was needed," Iannuccilli said.
Now Iannuccilli encourages other doctors to follow his lead. It's rare to see physicians in the industry, he says, but the skills that make them succeed in the medical field are needed in this industry.
"We're really looking at … pulling some of the scientists and professionals from [other] industries into this space to really make it legitimate and improve it," he said.
Right now, PureVita – which has eight employees – is looking to hire a chemistry and microbiology field analyst to collect samples of marijuana batches from cultivators and an analytical chemist to conduct testing at the lab. But a science background is not all that Iannuccilli and Andrew Austin, chief operating officer, look for in an employee. A connection to the industry and a passion for the product are important, too.
"We spend a lot of time carefully recruiting and screening our candidates and interviewing them before we make our final decision, specifically in our science space," Austin said.
At Solar Therapeutics, Gould points to himself as an example of the strong pull of the industry for some.
He worked for years in public relations, then shifted to operating Zen Blend Farms, a cannabis cultivation facility in Warwick that didn't require the use of his marketing skills. He eventually decided to combine his two areas of expertise – marijuana and marketing – and signed on for his role at Solar.
"There's so many ties to cannabis, you know from sports, from medicine, to fashion, to lifestyle, to art," Gould said. "It's really interesting, which was kind of the draw for me, is just how intertwined and in different segments of industries cannabis really is."
In a class called "Plant Cultivation I: Soil, Soil Substitutes, and Disease Management" at JWU, Celia Kinneary is feeling the draw of the industry and sees the same interest among her classmates as they work in the lab tending to tomato plants in special tents that allow the students to control air, humidity and temperature.
"Everything that's taught in this class, whether you're applying it to cannabis or other plants, you can use for absolutely any plant," Kinneary said. "These technologies we're learning are so ­important."
Update: Correction of a misspelling of the company name PureVita Labs LLC.
Learn More at CCI